3DPPGH was a Bronze Sponsor of MRRF 2017, and Chris and Ryan spent the weekend Goshen, IN for another fun-filled, community-driven event. Goshen is the home of SeeMeCNC, a superb open-source 3D printer company and the host of the Midwest RepRap Festival.
After renting a vehicle large enough to transport any 3D printer home if necessary, the 3DPPGH team had a rather eventful trip this year. It is hard to get the complete story devoid of half-truths; however, from Ryan's point of view the following may or may not have happened:
We ran out of gas while Chris was driving- just presenting the facts.
An Indiana State Trooper may have allegedly assisted Ryan in stealing a gas can from a nearby gas station.
When pulling into the gas station after a tense refill on the side of the highway with a stolen gas can, the van was driven into the bollard protecting the pump. Chris was driving- still just presenting the facts.
Upon stopping the van, the vehicle was left in drive and may have allegedly dragged Ryan a couple of feet. Chris was still driving…
The cap for the gas can broke, so the bozos decided to make a temporary cap with layers of shopping bag plastic held atop of the can while screwing on the remains of the broken cap. 20 miles later into the drive, the makeshift cap broke (surprise, surprise), and Ryan held the now open gas can between his legs in the front seat. We drove the rest of the way with the windows down with only some"minor" spillage
Matt and Mandy Stultz greeted us at the table they commandeered for us. After hugs were shared, Mandy said, "You smell like gasoline"…
Here are a few noteworthy events for Ryan as a complete 3D Printing Fanboy: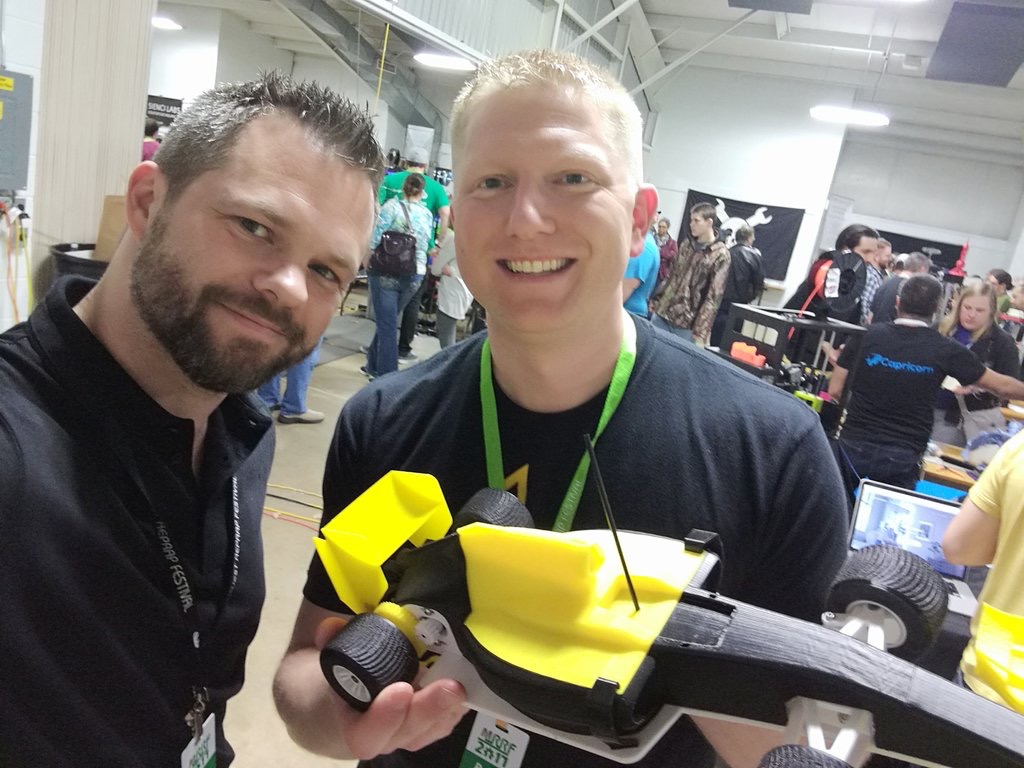 Here are a few noteworthy events for Chris (from Ryan's perspective):
Chris, JetGuy, Tom, and James were able to make a multi-material Prusa MK2 by connecting the Mosaic Palette before the weekend was over
Chris got to talk shop with Printrbot's Brooke Drum while we hung out at the SeeMeCNC factory after hours.
Click here for the Google Photo Album.